Just a quick post for an awesome chance to earn free stamps... this site carries such a varied collection at amazing prices... I found a stamp for Doctor Who... I am so happy...
Here is their posting on their blog:
Viva Las VegaStamps!: Get a Grab Bag of VLVS! rubber for FREE
: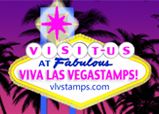 If you use the image code below to link back to VLVS! (www.vlvstamps.com) on your blog or website we will send you a free grab bag of unmounted rubber (15 Images and Sayings) as a thank you! To qualify, it must be a permanent link on your blog sidebar or website homepage. Send us an email (deedee430@gmail.com) with your blog/website after you've linked us to claim your free grab bag... be sure to give us your name and address so we can send out your FREE Grab Bag! THE CODE IS BELOW! Highlight the text, then click Ctrl C to copy it. Then paste to your blog by adding an HTML gadget or upload to your Website!
Code to Add VLVS! Button!
<a href="http://vlvstamps.com"><img src="http://i1147.photobucket.com/albums/o560/DeeDeeCatron/NewBlinkie_zpsf5ea6451.jpg"></a>